Our Apps
Brakar has three apps you can use to plan and pay for your journey. If you need assistance with any of the apps, please contact our Customer Service Centre.

Brakar Billett
Brakar Billett is the app you use to purchase tickets. In the app you can also buy tickets for others (e.g., your children). Brakar's tickets are also available in the Entur and Vy apps. By using mobile tickets, you avoid paying the onboard extra fee.
Download Brakar Billett for iPhone
Download Brakar Billett for Android
Terms of Use
Privacy Policy

Brakar Reise
When planning your journey, you can use the Brakar Reise app. Here, you can search for your trip and find the next departure. It is also possible to track the bus in real-time by using the "departure time" feature. Simply enter the bus stop you're departing from to see the next departures from that stop.
Download Brakar Reise for iPhone
Download Brakar Reise for Android
Privacy Policy

Brakar Fleks
In the autumn of 2023, we will launch a new app for booking Brakar Fleks in Kongsberg.
Frequently Asked Questions
Brakar Reise App
In Brakar Reise, you can look up the journey you're planning to take and find out which buses operate on that route. In the app, you input 'from' and 'to' (either an address or a bus stop):
Then, you can choose whether you want to travel now or change the time:
You can also adjust settings if, for example, you want to choose which modes of transportation are displayed, if you want to reduce the transfer time, or customise your walking speed. To change these settings, tap on the small hamburger menu. On iPhone, it's located at the top right, and on Android, you can find it at the bottom right, then make the adjustments you desire:
In Brakar Reise, you can check the actual departure time (real-time) from the bus stop you want to depart from. On iPhone, tap on 'Departure times' in the bottom menu bar, and on Android, you first tap on the top left hamburger menu, then select 'Departure times.' In the search field, you enter the bus stop you want to depart from and tap on it:
You will then get a list of the next departures from that bus stop. All routes that operate from this stop will be displayed. Please note that buses in both directions are shown here, so make sure to look at the direction name for the route to ensure you're checking the right departure. You can also mark your favorites by clicking the star icon to the right of the departure:
Once you've selected your favorites, you can easily find them by choosing 'Favorite Departures' instead of entering the bus stop every time: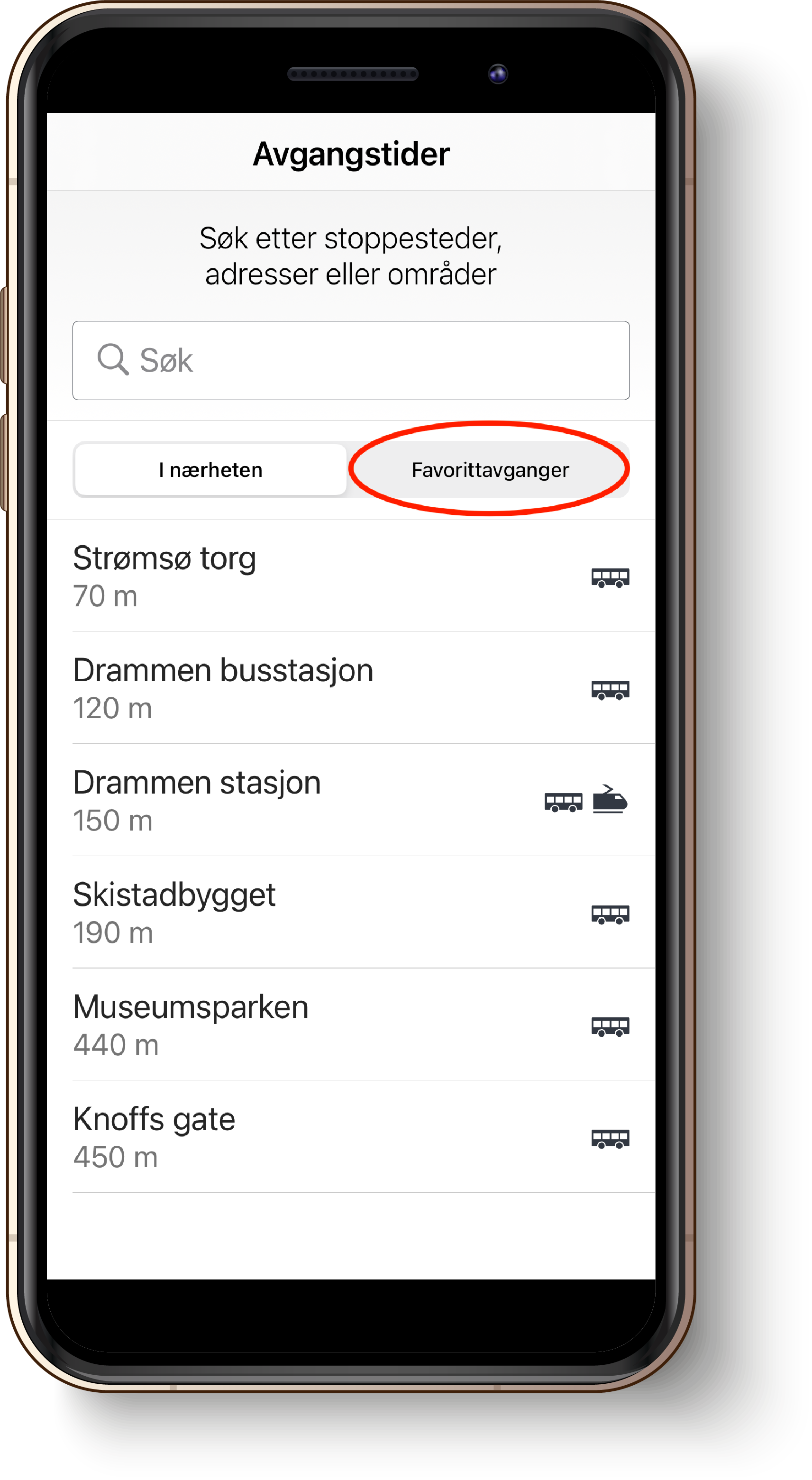 In Brakar Reise, there is a dedicated map feature. On iPhone you can find this in the bottom menu under 'map', and in Android you find it by clicking the top left hamburger menu, then select 'map'. In this map, you can see the locations of bus stops nearby marked as buses. When you tap on a bus, you will see a list at the bottom of the screen of the routes departing from that stop. You can then click on the selected bus stop to view the next departure times from there: